Georgia Denbigh
Georgia's research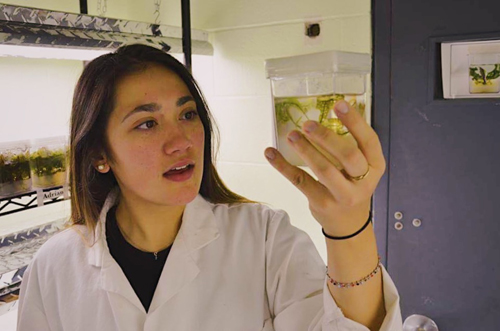 Georgia Denbigh started her MSc in the Gunawardena lab in May 2018. Georgia's passion grew for plant cell biology during her Experiential Learning course in the Gunawardena lab. During this hands-on course, she investigated the balance between reactive oxygen species and antioxidants in lace plant development. The findings from her work contributed to a manuscript published in Planta. Georgia continued her research in the Gunawardena lab as a volunteer, then pursued a Special Topics course, examining autophagosome production during lace plant PCD. Georgia completed her Honours research in the Gunawardena lab, funded by an NSERC USRA and Sarah Lawson Research Scholarship. Her study examined the origin of the induction signal(s) involved in lace plant PCD. Georgia received the Keith Winterhalder Undergraduate Travel Award to present her Honours research at the 54th Annual Meeting of the Canadian Botanical Association / L'Association Botanique du Canada (CBA-ABC). In February 2018, she was awarded the Nova Scotia Research and Innovation Graduate Scholarship to begin her Master's degree in the Gunawardena lab.
Georgia's current research projects include identifying anthocyanin biosynthesis, function and transport during lace plant development. Georgia is extremely excited about continuing her work in the lab with such interesting and novel projects, as well as being able to work with several of the talented and encouraging lab members.
In her spare time, Georgia loves gardening, hiking and playing the ukulele. She is passionate about volunteering and teaching students. Georgia frequently volunteers with the Atlantic Science Links Association (ASLA), Let's Talk Science, Regional Halifax Science Fair, and Doors Open Halifax.