April 2016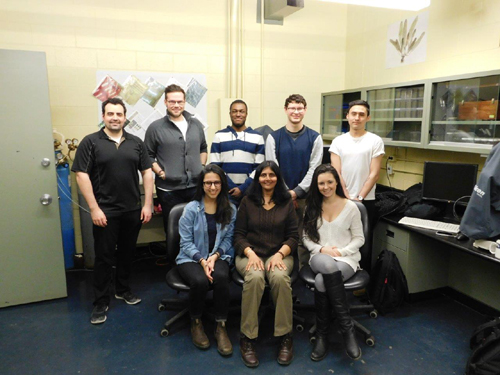 Front row (from left to right): Golara Sharafi, Arunika Gunawardena, Brittney Allen,
Back row (from left to right): Adrian Dauphinee, Jacob Fletcher,Conrad Yiridoe, Nathan Hoffmann, Stephen Chew
Brittney Allen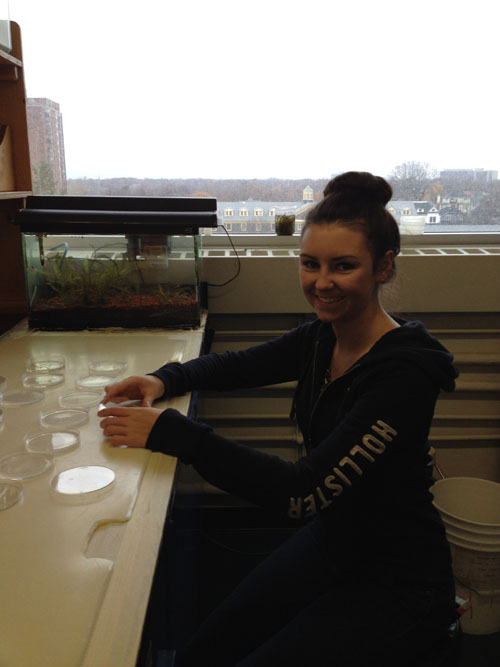 My name is Brittney Allen and I am a fourth year BSc student completing an honours in Biology with a minor in Health Studies. My interest in research began in secondary school where I competed in three national science fairs with research projects focused on preventative treatments for plant cell death caused by biotic and abiotic stress. As a member of Team Canada with Youth Science Canada, I had the opportunity to present my research as a member of the Youth Science Team Canada contingent at the international MILSET Science expo held in Bratislava Slovakia. I have recently completed Experiential Learning (BIOL 3800) in the Gunawardena lab and I am thrilled to have the opportunity to complete my honours research in this lab where I will continue to learn about programmed cell death and have the opportunity to develop advanced research skills. Prior to completing Experiential Learning, I volunteered in the Gunawardena lab beginning my second year of undergraduate studies. For the past fourteen years I have been a competitive dancer, competing and training nationally and internationally. I am currently a member of DalDance and I have danced competitively with the Dalhousie Black and Gold dance team. I also volunteer at the IWK and in the future, I plan to pursue a career in medicine.
Georgia Denbigh
Georgia Denbigh is in her third year of her BSc in Marine Biology. She is currently taking an Experiential Learning course in Dr. Gunawardena's lab, focusing on the intensity of reactive oxygen species among various developmental stages of the lace plant. Georgia immediately became interested in plant biology after taking Dr. Gunawardena's course on the diversity of plants, and was further intrigued by the research on lace plants. She is honored to be apart of such an incredible and inspiring lab, that encourages all students to work their hardest. Georgia is extremely excited about her work in the lab, as well as being able to work with several of the talented lab members.
Georgia is an active member in the Dalhousie Science Society, as well as the Dalhousie Association of Marine Biology Students. In 2015 she joined the Golden Key International Honour Society, being recognized as one of the top students of her class. Georgia hopes to one day to complete an Honors project, and eventually become a university professor to help students discover their inner potential.
t.