May 2014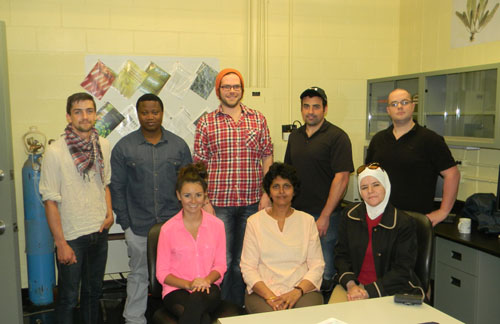 Front row (from left to right):Brittney Allen,Dr. Arunika Gunawardena and Dr. Roula Bayerli
Back row (from left to right): Trevor Warner,Gaolathe Rantong, Jacob Fletcher, Adrian Dauphinee and Paul Parks
Trevor Warner
Trevors's research
Trevor is entering the fourth year of his undergraduate degree with a major in Biology. Trevor's work in the Gunawardena Lab started with him approaching Dr. Gunawardena after class in Diversity of Life II. She inspired him to apply for the Sarah Lawson Scholarship in Botany for which he later became a recipient of for the summers of 2012 & 2013. The scholarship afforded him the opportunity to study the ecology of the lace plant, and more specifically, to look into the possible functions of the lace plants' perforated leaves. In addition, Trevor is working with Adrian in looking into the role of anthocyanin in lace plant PCD, and the morphology of different types of induced cell death. Born and raised in Calgary, Trevor's weekends were often spent in the numerous parks around his home or hiking in the Rockies with his family. He views this time in nature as fundamental to sparking his interests in ecology and community dynamics and looks forward to where his research will take him.
Angelica Camilo
Angelica's reseach
My name is Angelica Camillo and I am going into my fourth year of my undergraduate degree in Honour's Biology. After taking Dr. Gunawardena's Diversity of Life II class I began to develop an interest in plants and plant research. My passion for botany only grew after taking Dr. Gunawardena's plant cell biology class last year. I began volunteering in Dr. Gunawardena's PCD lab last fall and enrolled in the Experimental Learning course during the winter semester. I have been given the opportunity to continue my research this summer as I have obtained the Sarah Lawson Scholarship. The research I conduct this summer will be used for my honour's project this upcoming year. I have thoroughly enjoyed my time spent learning about PCD in the lace plant and am looking forward to continuing my research in the upcoming years.

Rebecca Watts
Rebecca's Research
Rebecca first joined the Gunawardena lab as a volunteer in the fall term of the 2011-2012 academic school year. Her keen interest in biology and desire to conduct botanical research lead her to enroll in a Special Topics course during the winter term of that year. During this course, she investigated the effects of the actin destabilizing agent Latrunculin B on the actin cytoskeleton of lace plant leaf cells undergoing PCD, as well as non-PCD cells at the cellular/organelle level. Rebecca was awarded the Sarah Lawson Botanical Research Scholarship for the summer of 2012, which will enable her to expand her research endeavours. Rebecca is currently conducting studies related to her honours thesis, which will extend into her final year of her undergraduate degree during the 2012-2013 academic year. Her project involves the role of vacuole during PCD in the lace plant. In her spare time, Rebecca maintains an active presence in her community through lifeguarding, teaching swimming lessons and volunteering for the Swim To Survive Program for the Lifesaving Society of Nova Scotia.