March 2018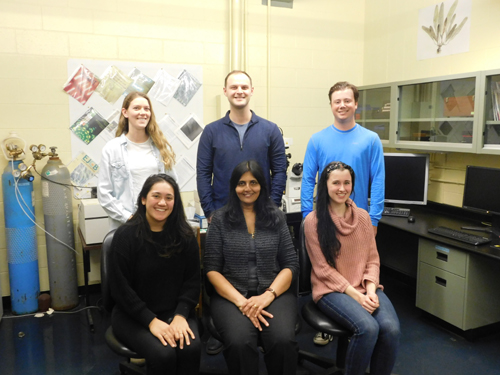 Front row (from left to right): Georgia Denbigh, Arunika Gunawardena, Michaela Kember
Back row (from left to right): Meredith Fraser, Nathan Rowarth,Samuel McAughey
Sam McAughey's research
Sam McAughey is currently in his fourth year of a BSc degree in Biology at Dalhousie University. Sam first found his passion for plant science while taking his second year class "Diversity of Life" taught by Dr. Gunawardena. From second year on he focused his studies on botany related courses, including Dr. Gunawardena's "Plant Cell Biology" class in his fourth year of study.
Sam completed Dalhousie's Experiential Learning course during the fall semester of his fourth year, in Dr. Gunawardena's PCD lab. He in currently completing an independent study in Dr. Gunawardena's lab, involving anthocyanin concentrations in the lace plant. Sam has received Dalhousie's Sarah Lawson plant research scholarship for the 2018 summer, and is very excited to continue his academic career and anthocyanin research.
Meredith's research
Meredith Fraser is in her fourth year of her BSc in Marine Biology and Sustainability at Dalhousie. She was first introduced to the lace plant and developmental PCD in her second year 'Diversity of Life' class taught by Dr. Gunawardena. While taking the 'Diversity of Algae' class at Dal and participating in a field course semester focusing on biogeography and natural resource management in the United States, she found her passion for plant life and plant cell biology.
Meredith completed an Experiential Learning credit in the PCD lab in Winter 2017. She was a recipient of an NSERC USRA, allowing her to work in the lab this summer completing a project focusing on intracellular calcium dynamics involved in lace plant PCD. She is hoping to begin her honours in the fall focusing on plant PCD and comparing it to similar processes in marine alga.
Adrian's research
Post-doctoral researcher
Adrian successfully defended his PhD thesis in May 2017 and will continue as a postdoctoral researcher in the Gunawardena lab from July-December 2017. In January 2017, he was awarded a prestigious NSERC Postdoctoral Fellowship (PDF) that provides funding "to a core of the most promising Canadian researchers at a pivotal time in their careers" thereby facilitating the pursuit of advanced training opportunities anywhere in the world. Adrian decided to start his NSERC PDF January 2018, in Uppsala, Sweden at the Swedish University of Agricultural Sciences and Linnean Center for Plant Biology. During his studies at Dalhousie, Adrian has published novel research in international journals and authored two book chapters. He has accumulated nearly 30 awards and distinctions at the institutional, national and international levels where he proudly represents Dalhousie University and Canadian research. Adrian has travelled the world presenting his work including: China, Czech Republic, Sweden, USA and Australia. His research interests in cell biology are currently focuses on the interactions among hormones, antioxidants, reactive oxygen species, calcium ions as well as autophagy ("self-eating"), and understanding how these factors influence programmed cellular death. Throughout his graduate studies, Adrian gained expertise in live cell imaging, microscopy (confocal, SEM and TEM), and an array of molecular biology techniques including genetic transformation.
PhD student
Adrian Dauphinee is a PhD candidate with a keen interest in plant biology. He began in the lab as a volunteer after taking Dr. Gunawardena's developmental biology course. After working in the lab for a short time, he realized that he wanted to pursue a career in research. His projects involving the lace plant have included the investigation of ethylene during programmed cell death (PCD) signalling, the establishment of protocols for continuous long-term (>72 h) live cell imaging, and the elucidation of the interactions among mitochondria, cytoskeleton and caspase-like proteases throughout cellular death. His work has been published in Botany, BioMed Central: Plant Biology and PLOS One. Adrian's current research projects include the novel transformation of the lace plant, as well as a comparative developmental morphology study that is examining the early leaf development of the lace plant and a close relative (Aponogeton boivinianus). The diverse background of projects undertaken has allowed him to obtain a wide range of skills in plant culturing, microscopy and molecular biology.
Adrian has presented his research at local, national and international conferences including the International Botanical Congress (2011) held in Melbourne Australia, and Botany 2012, Columbus Ohio. His papers have won top presentation awards at several levels of competition. In 2012 he was given the Dr. Gérard T. Simon award from the Microscopical Society of Canada (MSC) for the best presentation of the biological sciences, and a co-authored the paper won the Katherine Essau award from the Botanical Society of America. Adrian has also won prestigious NSERC and Killam Trust scholarships, which have given him financial support throughout his graduate studies.
In his spare time, Adrian enjoys running and or walking with his Labrador retriever (Cali), swimming, kayaking and playing golf and hockey with his friends. Adrian frequently competes in charity golf tournaments and helps to raise money for the heart and stroke foundation by co-hosting trivia nights. Adrian is a member of Scientists and Innovators in the Schools (SITS), which provides him with ample opportunities to mentor grade school kids in plant science. He frequently attends science fairs throughout the Halifax Regional Municipality to judge projects and help kids hone their presentation and experimental research skills. This work has also lead to science fair judging at the regional and national levels.
Adrian looks forward to continuing his pursuit of botanical knowledge and bettering the community. Conducting research is his passion, and he hopes to have a long career in the business of unravelling scientific mysteries.