Allice Rollini
Alice's Research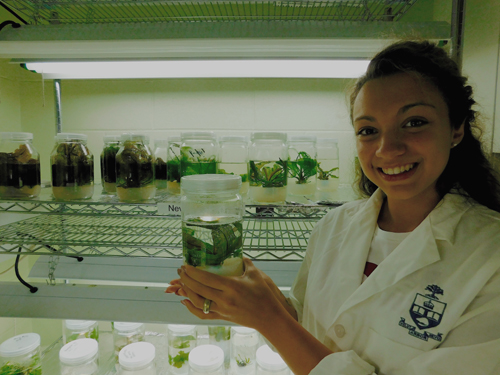 Alice is currently in her third year of BSc in Biology at Dalhousie University (2018-2019).
She first became interested in Dr. Gunawardena's laboratory and research during the second part of Diversity of life course, taught by Dr. Gunawardena. Alice's passion for the plant kingdom grew even larger when she started volunteering in Dr. Gunawardena's lab. Alice got immediately engaged with the fascinating lace plant, so she spent the summer volunteering and learning lab techniques. She then decided to enrol in the Experiential Learning course during the Fall term of her third year. Her research was todiscover the relationship that links a particular autophagy inhibitor and its effect on lace plant. Since Alice truly enjoyed her research semester, she enrolled in another laboratory course under the supervision of Dr. Gunawardena, the Independent Project,which is what Alice is currently performing. Her research is the result of a collaboration between Dr. Gunawardena from the Department of Biology and Dr. Hoskin from the Department of Pathology, Microbiology and Immunology, and Surgery. Alice is currentlyworking on five human ovarian cancer cell lines, and she is trying to find the cytotoxic levels of anthocyanin, a component of lace plant, against these cancer cells. She hopes to obtain a research scholarship during the Summer 2019 so that she can continuousher research on both lace plant and human ovarian cancer cells. Alice is eager to start her Honour Project on lace plant next year and attending the fourth year Plant Cell Biology course taught by Dr. Gunawardena.
Her goal after graduation would be to continue studying anthocyanin extracts from lace plant and look at the effect that it has on cancer cells during her master studies. Alice is determined to bring Science closer to a cure for cancer and eventually enter into Medical School where she could achieve her final goal of becoming a heart surgeon.
Alice just recently started volunteering for the MS Society and she usually volunteers at Doors Open Halifax. In her spare time she enjoys taking care of her Betta fish Jimmy and his little fellows, and going out for brunch.