Allice Rollini
Alice's Research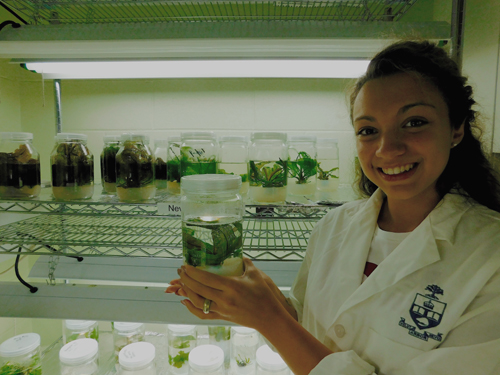 Alice is an International student from Milan, Italy. She is going into her third year of her BSc in Biology here at Dalhousie University where she is currently taking the Experiential Learning Course in Dr. Gunawardena's Lab. She will be looking at the effects that a specific autophagy inhibitor will have on the Lace Plant.
Alice first became interested in Dr. Gunawardena's lab during the Winter semester of her second year of undergraduate studies, when Dr. Gunawardena introduced her to the research on lace plant during the Plant Diversity class - BIOL 2004. Alice became immediately intrigued and started volunteering in the lab, and is now taking an active part in the research. Alice's goal is to attend medical school and become a heart surgeon, but in the meantime she is determined in pursuing honours with Dr. Gunawardena since she believes that plants are precious resources from which a lot can be learnt for the treatment several diseases.
Alice is absolutely glad for having received the opportunity to join the Lace Plant Lab as a lab member and will work hard in order to achieve her goals.