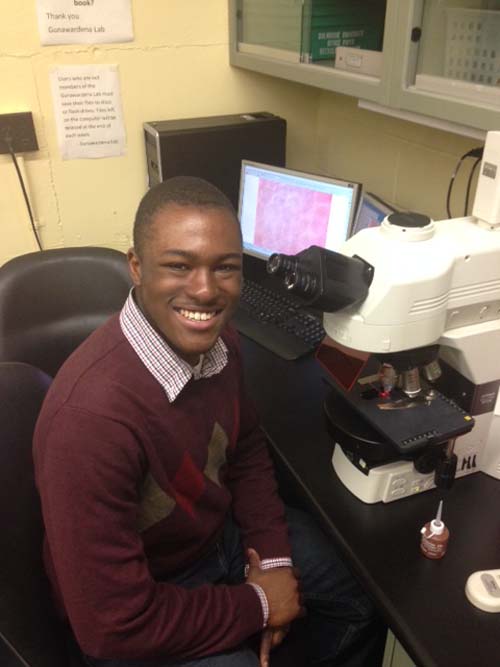 Conrad is in the final year of his BSc in Biology and Microbiology. His strong interest in botany, was further enhanced by his completion of the Diversity of Life II and Developmental Biology classes. From the Diversity of Life II class, he met Dr. Gunawardena, and was fortunate enough and humbled to receive the Sarah Lawson Research Scholarship to conduct plant research in the summer of 2015 in her lab. His interest in studying antioxidants, began from his previous work in Dr. Chibuike Udenigwe's lab at the Faculty of Agriculture in the summer of 2014. Here, Conrad was involved in multiple projects ranging from assessing the antioxidant capabilities of multiple food peptides, to developing a protocol for monitoring the presence of certain antioxidants using nanotechnology. This summer, Conrad is combining his love of antioxidants with his strong interest in plant biology, by investigating the role of antioxidants in programmed cell death in the lace plant. Furthermore, Conrad is learning and enhancing his knowledge of multiple techniques, ranging from tissue culturing to different types of advanced microscopy.
Outside the lab, Conrad enjoys playing (and coaching) soccer, badminton and basketball with his friends as well as playing the piano. He is also a member of DalSense, which is a Dalhousie University student run society dedicated to raising money for scholarships for the visually impaired.
Conrad is very excited about his lab work and hopes to continue his passion of research, by completing his honours project in Dr. Gunawardena's lab this coming fall.
Conrad Yiridoe
Conrad's research